AP News: DJ Forrest of Xceptional DJs + Photobooths Named "1 of 3 Best Rated DJs in Houston"
Multi-Genre Specialist Serving Top Tier Corporate, Wedding, School, and Private Functions of all types: Old School/Modern Hip Hop, 50's, 60's, 70's, 80's, Top 40, funk, disco, oldies, regional/tropical latin, classic/modern country, and MUCH more! All genres and age groups.
Follow DJ Forrest on Instagram + Facebook
Press: Yahoo! Finance (2019) Fox News Lubbock (2019) Voyage Houston: Magazine Feature (2018) – Texas Homes: Feature
Forrest has worked with many of the top brands in the world:
–
–

–

–

–
–

–

–

–

–

–

–

–

–

–

–

–

– –

–

–


–

–

–

–

–

-January 2019
"You were incredible at my daughter and son-n-laws wedding in Dec of 2018! thank you for being the Best D.J. I have known by far, I will forever spread your name to people that need a professional, fun & energetic DJ"
–
–
New DJ Review from Google page!
–
–
January 2019
–
November 2018
–
–
October 2018
"DJ Forrest is the Best DJ! went above and beyond for our wedding. Our initial phone call with Forrest went very well and he was very receptive to our requests. He played almost every song we submitted to him during our pre-wedding consultation, including some untypical songs. He was very detailed oriented and made no missteps with our procession songs. The dance floor was packed the whole night! We even saw some of our guests that never dance out on the dance floor. We also liked the fact that he did not talk excessively on the microphone. We did hear from some guests that they had trouble hearing us during the ceremony and the toasts during reception, but most had no trouble, so it wasn't a big problem. From attending past weddings, the two things people remember the most is the music and the food. With DJ Forrest you can at least cross music off the list."
–
-October 2018
–
May 2018
April 2018
January 2018
December 2017
December 2017
-October 2017
August 2017
July 2017

–
July 2017

–
June 2017


–
May 2017


–
January 2017-
November 2016-
–
October 2016-
"Forrest thank you so much for being a part of our special day. You have been great to work with and fun for our guests!" – Christi and Nick @ The Gallery in Houston

–


–
September 2016

August 2016
March 2016
Updated Yelp Review…
"Used this company again this week for rodeo receptions. Exceptional doesn't begin to describe the professional service provided. I would recommend exceptional djs and DJ Forrest for any event. I've personally used the photo booths for several rodeo functions but I have also attended weddings"
–
From the top planner @ Briscoe Manor….
–
February 2016
-February 2016
-November 2015
June 2015
June 2015
– May 2015
Guests still raving about how much fun the wedding was… 2 YEARS LATER!!! DJ Forrest @ Hotel ZaZa
May 2015
-March 2015 (check out this Facebook exchange) 🙂
-March 2015
"You put on the best performance EVER! Thank you for your flexibility, and helping to make everything go so smoothly. We got compliments on the must all night long and we couldn't be happier. You will be hearing from us again Forrest! " – Judy and Thomas Wedding Reception @ Crystal Springs
– January 2015
" Hello Forrest, WOW! Thank you so much for everything. The emails are flooding in about the DJ from last night!! We would like to invite you back out to the Student Life Awards Banquet if you are available. Best DJ Ever!" -Lonestar College"
–
December 2014
–
December 2014
–
"Hi Forrest, Thanks again for doing our party this weekend! It was a success and everyone had a great time. I'll definitely keep you in mind for our future parties. Thanks again and happy holidays!"
–
November 2014- BBB upgraded from A to A+
–
October 2014
–
October 2014


I had the pleasure of having the owner DJ Forest do our wedding! My expectations were beyond exceeded. From the music, Photo booth,wedding video highlights to all of the coordination that he did with the wedding coordinator. We had so many last minute changes and ideas and no one ever noticed he did everything flawlessly. I couldn't have ask for a better DJ! The video was AMAZING! Along with the photo booth pictures and Music was Beyond awesome! I will use him again for any event! I especially highly recommend him and his company for a wedding so you don't have to have any stress or worries about anything!
–
October 2014 (via email)
Forrest,
I just wanted to thank you for another fun evening last night. You are truly not only awesome at what you do, but with the kids. Takes a special person!! -Melanie
–
October 2014
–
Via email (Sweet 16 celebration):
–
October 2014
Julissa: So we hired DJ Forrest for my 18th birthday bash! It was the best party of the year even for my friends from the church, like they talked about it for weeks and now we are sooo excited to also hire him for my sisters sweet 16 <3 I'm very happy with the choice my parents made and it was the quality,the sound & the way he does business which was the seal of the deal! Thank you Forrest, I will forever be grateful with you and your work, it was the best party EVER!!!!
Nancy: 10/10/2014 I had the pleasure of working with Forrest last weekend as he provided the DJ service for a wedding at the venue where I work. He contacted the bride promptly to discuss the details of her reception and then communicated those details with us at the venue. Since the DJ runs the reception this is key to ensuring that all goes as the bride and groom wish for their celebration. He did an excellent job and had everyone on the dance floor. Forrest is very professional, was prompt for set up and was easy to communicate with prior to and during the event. Excellent service!
Blanca: 10/8/2014 This was my daughters 18th year old birthday bash at our home in Clear Lake, Forrest got there early and did an outstanding job, I knew him from like 4 years ago but didn't know the quality of his business which left everyone impressed at the party, and these people were Christians who loved his music and the excellence in how he performed his task. We are very pleased with him and will never hire anyone else, the quality was the best in the market! Hire him, you wont regret it! Hands down! B.H.
Rhonda: 10/7/2014 I had an exceptional experience with this company. Very well prepared and effortless for me. I used the photo booth and it was wonderful. I've also attended several events they DJed. They have a wonderful selection of music for any occasion and do a great job at weddings. Will defiantly use this company again and would certainly recommend them to friends.
–
August 2014
–
August 2014
"You did an awesome job and I had so many compliments on you! The photo booth was a HUGE success!"
May 2014
March 2014
From our email box 🙂
March 2014
–
February 2014
January 2014… from our Facebook page@ www.facebook.com/houstondjs
"Forrest, we cannot thank you enough! Ryley and I were so nervous since our DJ that we had been working with backed out a few months before the event without the slightest notice. I immediately took to the internet and found Forrest from Xceptional DJ's, who I called based on the highly praised reviews. Thankfully, he had a spot open and we booked him right away. He was the most professional vendor we worked with, and I could not be any happier with my choice. The package we got came with a photobooth, and that was the icing on top of the cake. It was a hit! Forrest, you are the best DJ I have ever seen. You had some of my family members busting a move that I've never even seen dance at any other event. If I could give 100 stars to Forrest, I would! Thank you so much for making our night unforgettable! Everyone loved the music and enjoyed themselves because of you!! If anyone in Houston needs a DJ, it's gotta be Forrest!"
–
January 2014
–
December 2013
–
December 2013
"Forrest!! I just wanted to send you an email telling you how appreciative we are for Saturday night! You did such an awesome job. Everyone kept complimenting you and telling me how great your music and lighting was. We will definitely be recommending you to everyone we know and couldn't have asked for a better DJ!" Alyssa and Taylor- Amber Springs
–
December 2013
–
November 2013
–
November 2013
–
November 2013: "I was so nervous about hiring a DJ. Not you personally, but just a DJ in general because of all the horror stories. You are absolutely doing a PERFECT job. Thank you much Forrest. I love you!!!"
–
October 2013
–
September 2013- Photographer Mentions we are one of the best DJ's she has ever worked with!
July
2013
May 2013 (from the email inbox)
May, 2013
–
April 2013
–
***************************************************************************************************************
"I was so impressed with your skill and your reasonable pricing that I will be recommending your services to friends. Thanks and great job on our pool party!
Bill Allen, Houston
" Thank you for planning and DJing our wedding in Deer Park at Battleground. You did such a great job with everything and we had a great time!"
Jaimie Rich, Houston
" Thank you for performing at our wedding. You did such a great job with everything and we had a great time!"
Jaimie Rich, Houston
"Forrest, you really saved us when our DJ cancelled two days before the wedding! Not only did you save the wedding, your DJ Roland was such a joy to work with and he kept us dancing all night. You are a true pro!"
Janet Jones, Galveston
"Forrest, you are one of the best DJ's I have ever seen! You kept the crowd going and knew exactly how to handle the party!"
Megan Brews, Pasadena
"We called at least 10 Houston DJ's and not one picked up and none even had the courtesy to call us back! I appreciate dealing with a professional company like this and will continue to refer you in the future. I heard you were the most referred DJ in La Porte and now I know why!"
Meredith Adams, La Porte
"As a banquet facility manager, I see DJ's on a regular basis. You are among the best I have worked with to date. We can't wait to have you back and we are adding you to our referral list."
Melony Robbins, Beaumont
"I can't tell you how happy I am that we chose you. We were so close to hiring one of your competitors and I feel like we made the right choice. Everything you promised was delivered and my entire family had so much fun we are still talking about it two months later! Thanks a million."
Britney Sam, La Porte
" Well, I am honored to be a repeat customer of yours. You made Diana feel very comfortable with the situation and you were extremely careful not to mention the previous wedding in Clear Lake on Starfleet. I feel I have gained a friend."
Ricky Sanchez, Houston (Heights)
–

Read all of our
Wedding Disc Jockey Reviews
at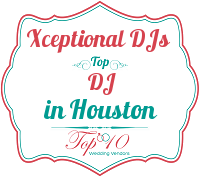 DJ Forrest Houston #djforrest is the award winning founder and face of Xceptional DJ's + Photo Booths and is one of the most highly requested corporate, wedding, private party, and special event DJs in Houston with 15+ years of excellence. He specializes in all ages, nearly all event and genre types, and has been called the "Top DJ" or "Best DJ Ever" on numerous occasions by countless venues, brides, clients, and most importantly… other vendors that frequently see and work with other Djs. He is also a Top 10 Vendor and a Houston Cityvoter A-List finalist in the "wedding music" and "wedding rental" categories.
He mixes music and remixes seamlessly with the #1 rated Numark Ns7ii digital turntables, and also runs professional photo booths with quality attendants, pro lighting, prints, and party props. His team of DJs are also highly skilled and work closely with Forrest to help produce events as close to perfection as possible!
–
Corporate: When requiring the top talent available for a major corporate party, DJ Forrest should be a major consideration as your choice due to his classy announcements and ability to mix diverse music choices. He has worked seamlessly with small to fortune 500 companies for many years. From the initial background music to the eloquent announcements, your corporate event will gain a priceless touch of class and fun.
–
Weddings: If you need the ultimate in wedding entertainment, DJ Forrest is your go-to choice. He is top 10 rated in Houston, full service, and plans every detail of your timeline while handling all coordination and announcements to make your event seamless for your guests. You have no need to hire a separate day of coordinator when Forrest is on your side! His services include event planning, special lighting, monograms, photobooths, and more!
–
Schools: DJ Forrest handles many school districts in Houston and surrounding areas and rocks school dances like no other! His smooth mixes of the current hits and remixes WOW the staff and students while reinventing the stereotypical boring school dance. He is personally performed for multiple school districs at over 140 schools in the Houston area and most are still currently clients. With the right Dj in place, dances become huge revenue generators for the schools, and Forrest understands how to keep both students and teachers estatic!
–
Clubs/Nightlife: DJ Forrest Houston specializes in taking slow club/bar week nights, and turning them into a spectacle rivaling your typical Friday and Saturday business crowd using a combination of great promotions and stellar custom DJ performance. He incorporates games, specials, challenges, and more to enhance the vibe.